Buyback
> Check here to see if your book is being bought back :: Buyback is debit & credit card only.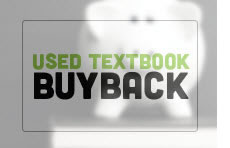 How it works:
Tell us which books you want to sell.
We will check all participating schools to find a school currently buying the title.
If no schools are currently buying your title you can sell it to other students directly in our used book classifieds.
We can automatically notify you by Email when a school wants to buy your book.
Tell us which books you want to sell and we will tell you how much we can give you for them.  Please keep checking back as we update the buyback list daily with new titles. Check prices online here or check on your smartphone! Our smartphone app is available on the Apple iPhone and the Android mobile platforms. Our app uses your smartphone''s camera to scan your bar code so you don''t have to enter in your book''s ISBN manually. Find the app by searching for "UVIC" in the App Store or in the Google Play Store!

Buyback Hours
Buyback goes on all summer long until September 11th
Monday - Friday 9am - 4pm
Saturdays 11am - 4pm

> BuyBack Alerts
Want to be notified when we are buying your books back? Click here to sign up for Buy-Back Alerts
> Used Classifieds
Click here to use our Used Books Classifieds to sell privately between students.
Got questions about how this works? Click here to check out our FAQ page.